---
The kitchen is the heart of many homes, and that is no different down south! When deciding on your perfect house, you want to make sure that your kitchen fulfills all your family's needs. A common misconception about manufactured homes is that your options are limited and or outdated. This may have been true 30 years ago, however, today's manufactured homes have plenty of options to personalize your kitchen to give the look and feel that your desire! Check out our favorite options that can be utilized to give a modern look to your kitchen and to make life in the kitchen easier, faster and more efficient!


1. Glass Cooktops

Glass cooktops are much easier to clean and provide an even heat for a better cooking experience. The dual radiant element makes matching the size to pots and pans a cinch, and with dishwasher safe knobs, Whirlpool has made cleaning up after dinner an easy task!

2. Ceramic Backsplashes

These beautiful, artistic touches add decoration and a splash of color to liven up your kitchen space. They also help to give a modern feel to your kitchen!

3. Stainless Steel Euro-Style Range Hoods

These are a great option for anyone that cooks a lot. Range hoods are wonderful tools for eliminating airborne grease, fumes, smoke, odors and heat from the kitchen area. The 36-inch vented hood features low noise operation, so the kitchen can be a tad less chaotic!

4. Pot-Filler Faucets Above the Cooktops

What an awesome invention for adding water to pots instead of having to haul a heavy pot across the kitchen! Pasta dishes no longer have to be a difficult task!

5. Under Cabinet Lighting

This sleek lighting gives a friendly glow to your kitchen. Besides the great ambiance, these extra lights are a big help for aging eyes, as they provide extra light in the kitchen area. This simple solution can provide great safety in a room that can be accident prone!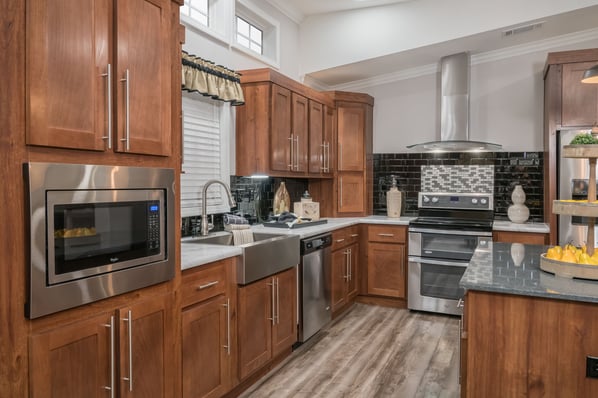 6. Stainless Steel Appliances
These sturdy appliances have a sleek look and are a great addition to any kitchen! Not only do they have a long life span due to the rust-proof and stain resistant material, stainless steel appliances do not harbor germs. The non-porous exterior resists germs and bacteria much more effectively than alternatives.
7. LED Lighting Over Kitchen Sinks
These energy efficient lighting options are great because they will last forever without having to be replaced! Finding small solutions like this add up over time!
8. Small Appliance Convenience Center
Is it a cabinet? Is it extra counter space? Its both! This is such a great way to keep appliances that are used on a regular basis out of sight! Blenders and coffee pots are two items that often find their ways into this space! With the pull away cabinet door these stations can be easily concealed without having to pack away your daily tools!
9. Fluted Glass Door Inserts
Open cabinets have been all the rage lately, but when you take the doors off your cabinets completely, you are opening them up to the world. If have spotlessly organized cabinets at all times, fluted glass inserts are a great alternative to traditional wooden doors. These also help give the kitchen a brighter, more modern look.
10. Stainless Steel Farmhouse Sink
The large sink area gives a much more efficient work area. Also, not having a counter area between you and the sink gives makes for less mess! The stainless steel has a long life span and resists germs, which can often be found in the sink area.
---
All of these options combine convenience with a sleek look to give you the ultimate kitchen experience. We promise, these are not your grandmothers' kitchens. Finding out what your options are is an important part of the home buying process... and what a fun part! Designing your perfect home is exciting!
---