Buying a new home is a major milestone in a person's life. An often overlooked option when shopping for a new home is the manufactured housing market. Today's manufactured homes, also called mobile homes, prefabricated homes and in the past, trailer homes, offer a great solution to people who want a customized home, but do not want to wait through a long building process or who want to find ways to save money.
"I don't want to sacrifice space or luxury to stay in my budget"
Manufactured homes have been the solution to this common dilemma for many home buyers, because the cost per square foot is often significantly lower for a manufactured home than a site built home. Long gone are the days of the cookie cutter single wide mobile homes equipped with only the bare necessities. These days manufactured homes come with a lot of the same options as a site built house. Check out the picture below.
*pin it icon*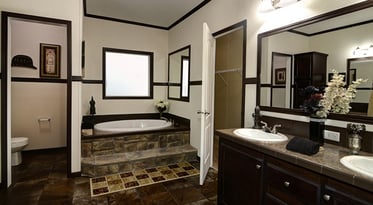 Would you guess that this was the bathroom of a double wide manufactured home?
Nice, right?
Some questions to ask yourself to decide if a manufactured home might be a good option:
Do I want to have a fast building process?
Is it important to me to have an energy efficient home?
Would I like to customize my home to fit my needs?
Am I a fan of saving money?
If you answered 'yes' to any of these questions you owe it to your household to explore the option of a manufactured home. A lot of the advantages of buying a manufactured home are the solutions to the complaints about site built homes.
Perk 1: Rain or shine. Site built home construction often has to shut down due to harsh weather conditions and rain. Because manufactured homes are built in factories, construction is year round. This means manufactured homes are move-in ready within a fraction of the time it takes for a site built home.
Perk 2: Practice makes perfect. The cost of a manufactured home is significantly lower than a site built home because these companies have created a more efficient building process with assembly lines, enabling the manufactured home industry to provide a lower cost option to site built homes.
Perk 3: Location, location, location. When purchasing a previously owned site built home you are limited to that house's location. Manufactured homes are able to be relocated, meaning you have the freedom to decide where your house goes.
Perk 4: Freedom of choice. Mobile homes can be customized to fit your family's needs. There are endless options of floor plans, sizes and upgrades to make sure that your home is exactly how you dreamed it would be.
For a long time manufactured homes have given people an affordable option to stop renting who did not want to deal with the process or price of a site built home. It seems like manufactured homes have evolved with the rest of the world, making them a real alternative to a site built home.
If you are looking for ideas for your manufactured home please check out our Pinterest, we've been compiling great tips, tricks and ideas for years!
To learn more about manufactured homes take a look at our website.