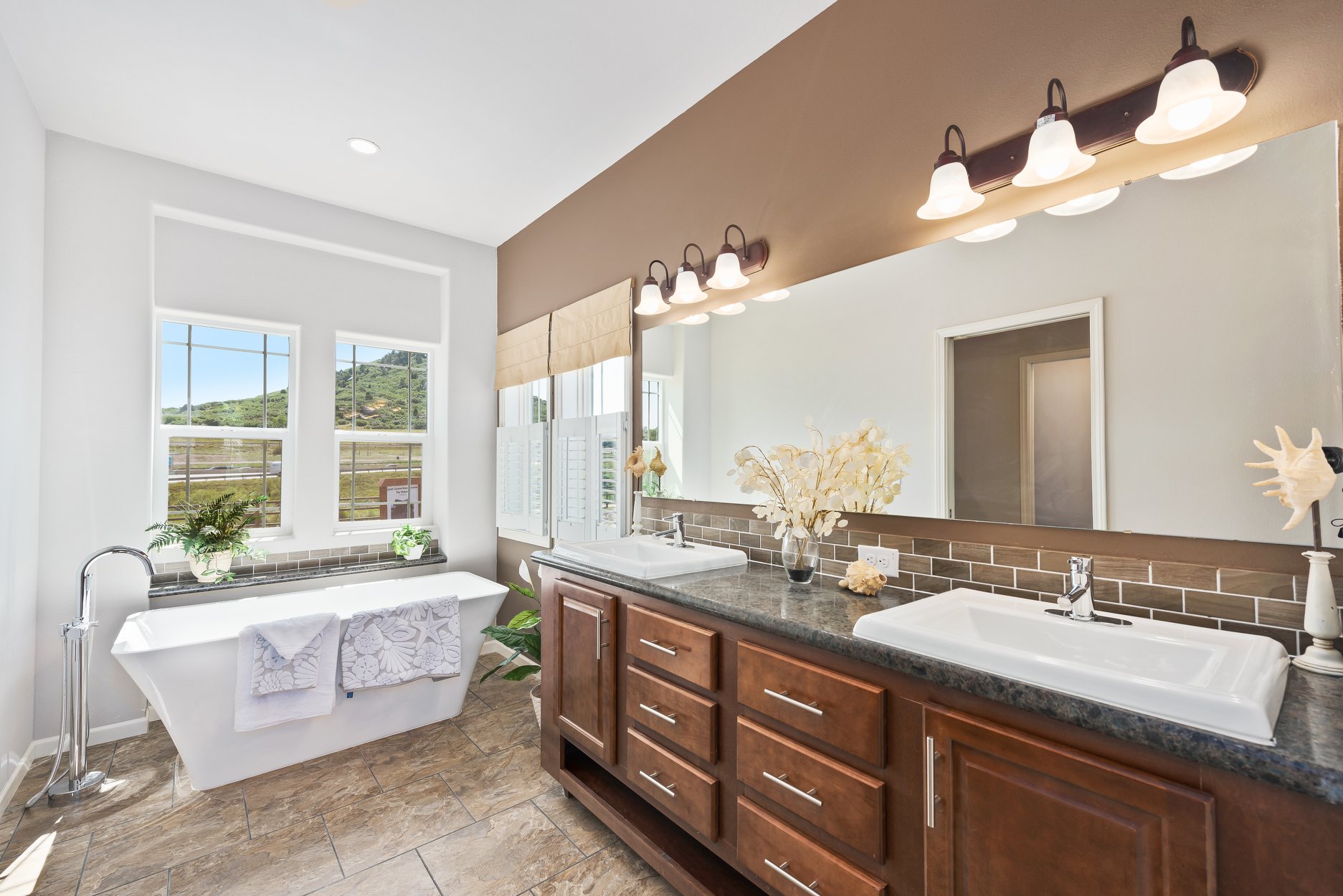 Are you ready to treat yourself to the bathroom of your dreams? Whether you're looking for a spacious bathroom with a step-in shower or a luxurious soaker tub to relax in after a long day, Titan is proud to offer a variety of manufactured home baths and shower options to accommodate you and your family.
Learn more about bathtub and shower options in our Titan Factory Direct homes
The Many Beautiful Options
There are many ways you can customize your master bathroom to fit your needs, you'll find that you can truly get luxurious looks for less with different upgrades and features offered. We also offer homes with large, open bathrooms that have separate soaker bathtubs and showers.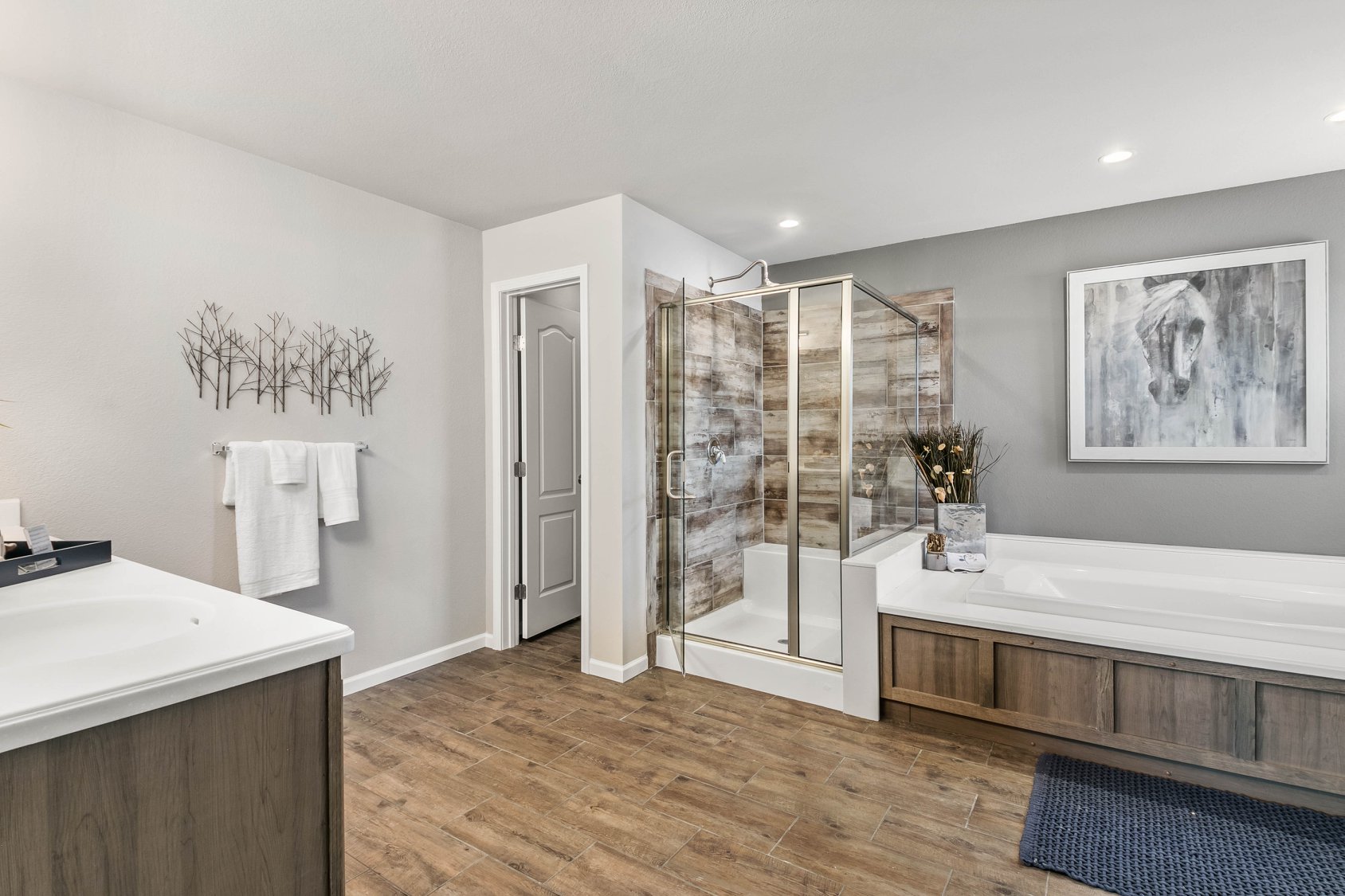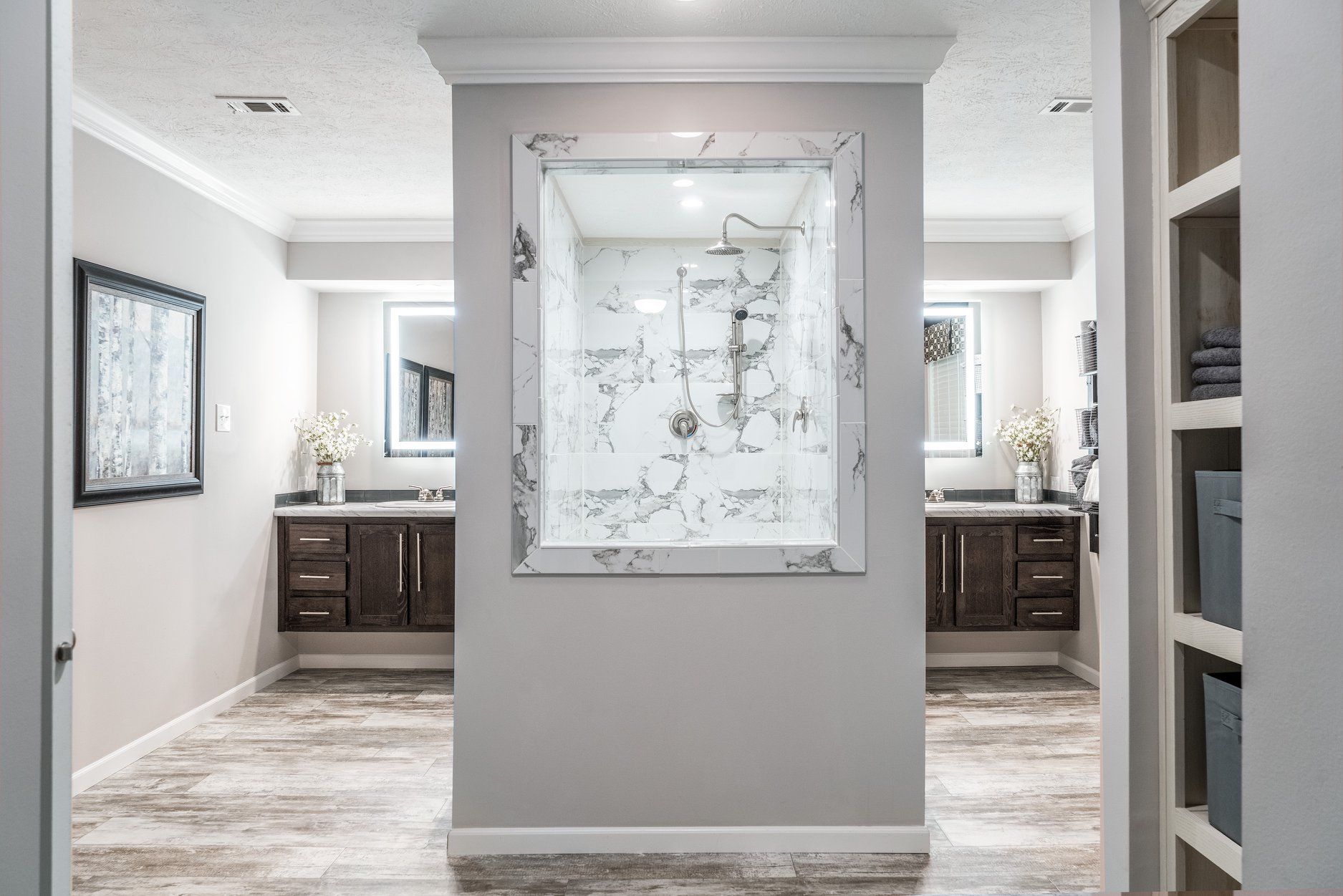 Some of these homes have upgraded materials and designs that create a spa getaway like stone accents or waterfall shower-heads.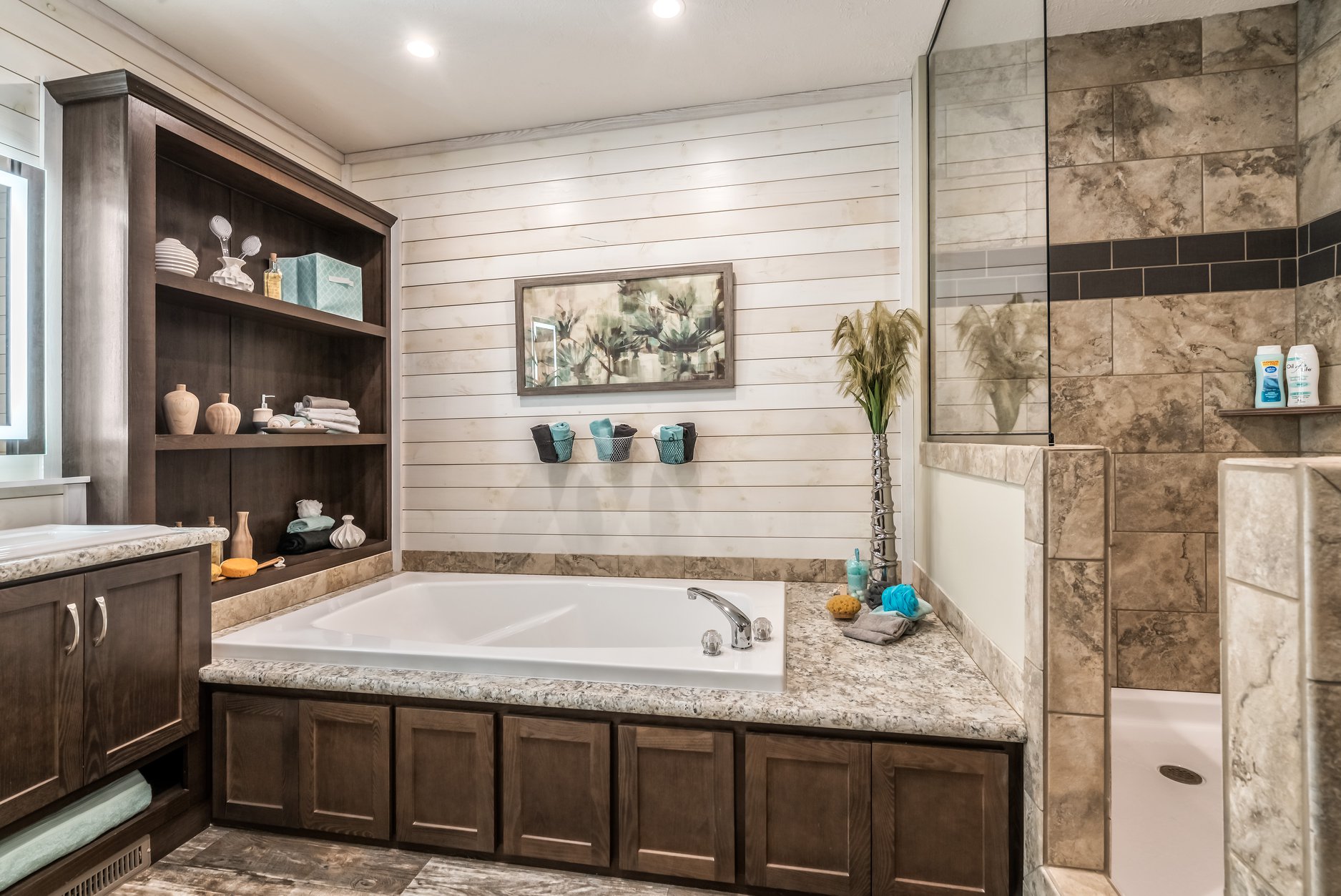 Our deep bathtubs are perfect for unwinding at the end of the day. They come in a variety of shapes and styles as well. Depending on your home floor plan, the bathtub could be nestled into a bathroom nook, stand alone, fit smartly into a corner, include built-in storage around it or be the focal point of your spa-like bathroom.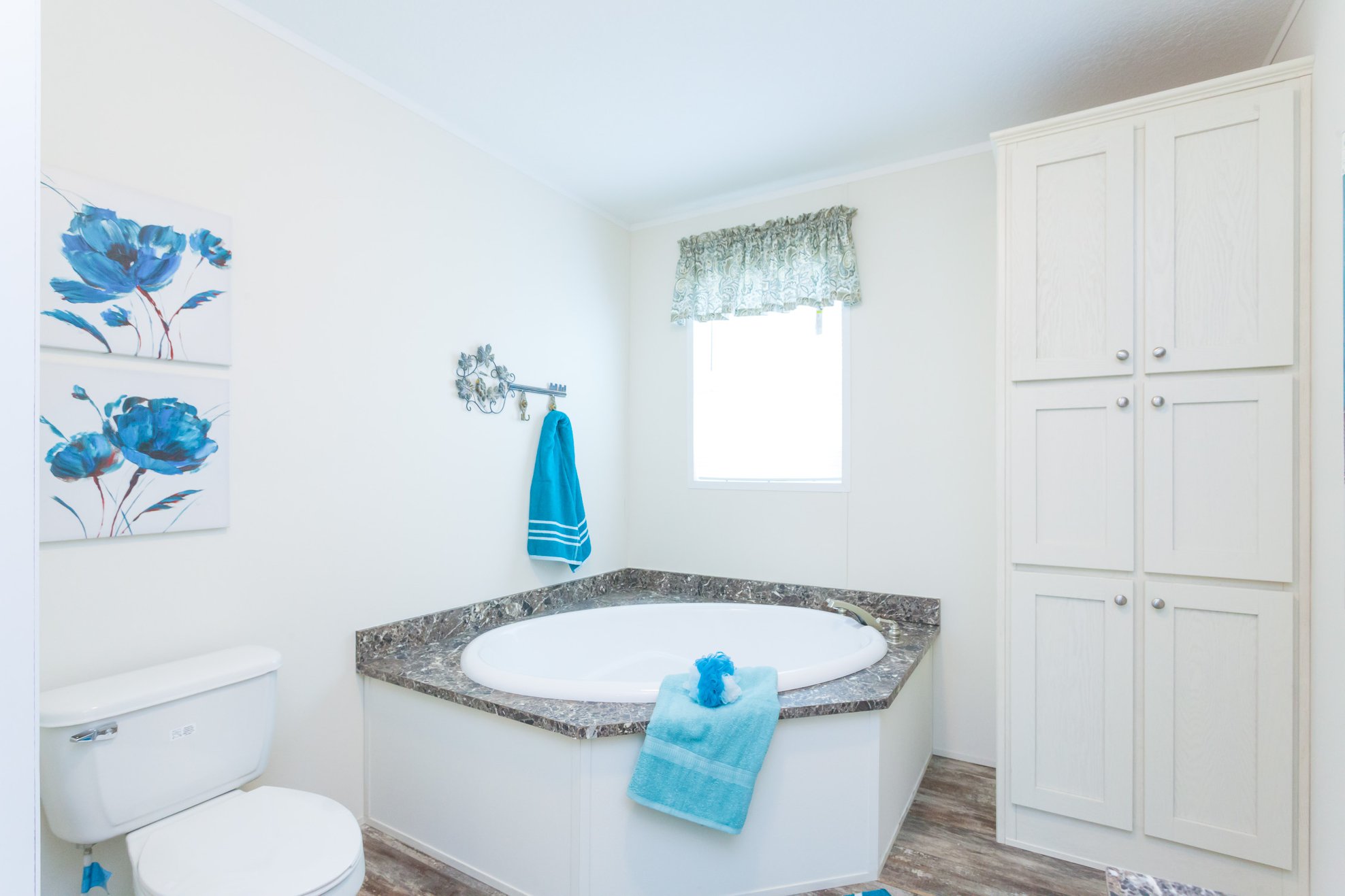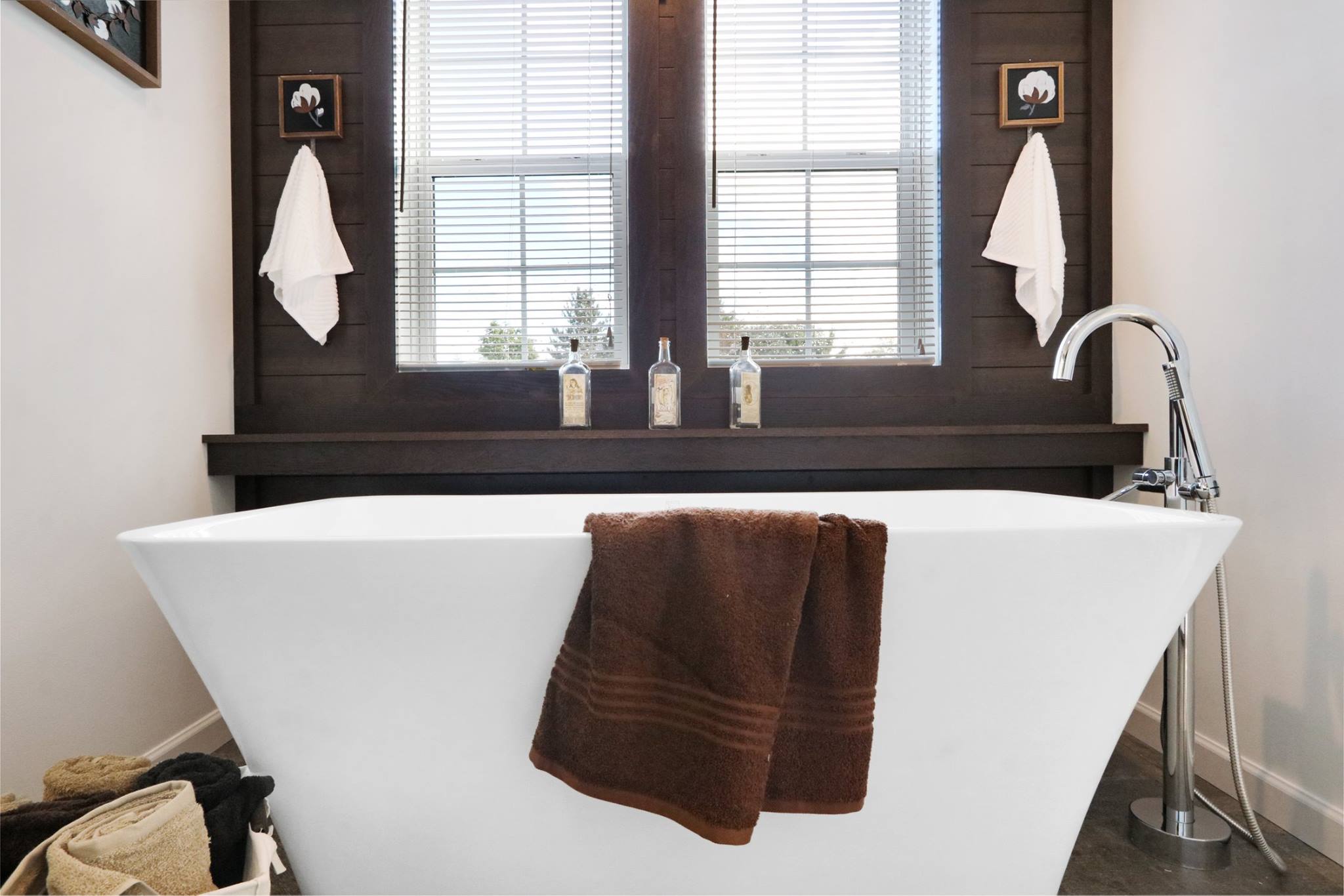 We also offer master bathrooms that only have a shower if you don't often use a bathtub.
Personalized Bathtub Options
Depending on the home center and the home building facility that a Titan Factory Direct homes comes from, you may have the option to upgrade you bath or shower. This is typically an upgrade option and does not normally come standard. You would need to talk to your home center consultant if you are interested any additional customization options.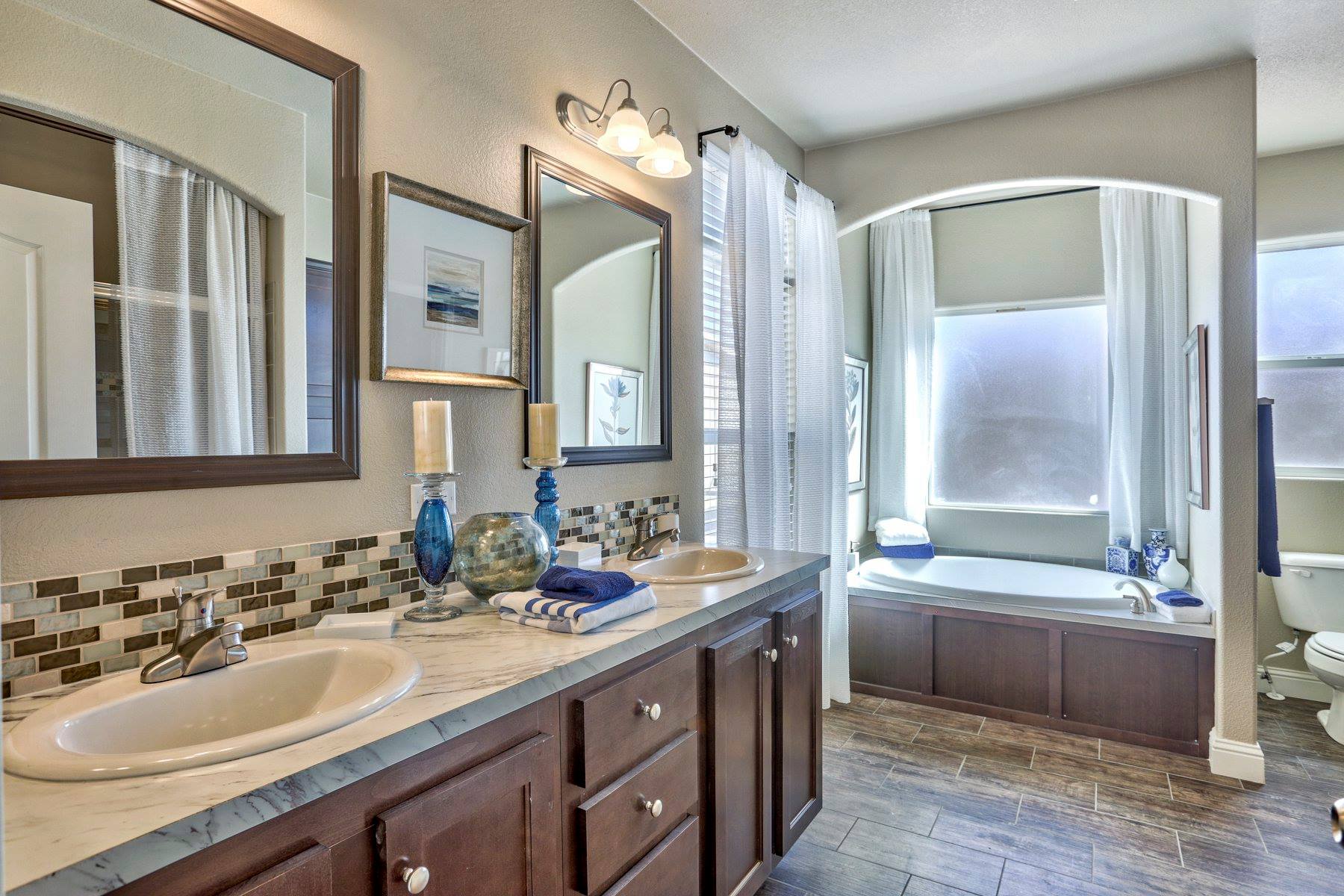 Which bathtub/shower option is best for me?
When choosing the perfect bathroom options for your new Titan Champion home, a couple of questions may cross your mind, how can you choose the right bathtub and shower to create the bathroom of your dreams.
Do you cherish your bath soaking time?
If you love to unwind with a bubble bath, or like to treat yourself to a relaxing soak, then a soaker tub is a better option than your typical bathtub and shower combo.
Do you have a pet that you need to wash?

If you're a pet owner, certain pet owners find it easier to wash your pet indoors. Depending on your pet's preferences, a bathtub may be easier for washing your pet to prevent how much you'll get wet in the process and to help keep your pet more contained.
Do you have any safety concerns or persons with disabilities?

A step-in shower may be a better option for you than a bathtub shower combo. However, you can certainly ask about bathtub shower combos we offer that have a bathtub step, which can make it easier to get in and out of the bathtub. We also offer bathrooms with separate shower and tubs, and you can find bathtubs with a step to enhance safety and ease of entry
How much personal privacy do you desire?

Many of our soaker tubs do not come with curtains or enclosure. Depending on your personal preferences for bathing, you may want a bathtub shower combo to create more soaking privacy, or you could hang curtains from the ceiling.
What is your price point?

Depending on your home budget, different Titan homes will offer different features and upgrade options. Certain price point levels may not offer a soaker tub option or may only offer certain manufactured home bathroom options.
Our friendly professional housing consultants are happy to help you find your one-of-a-kind bathroom you long for in a home that fits your budget and lifestyle. Many of our spa bathroom features are affordable and stylish so that you can create the master bathroom of your dreams.