---
One thing you can count on in Texas... HOT summers! My favorite ways to cool down is swimming, bonus points if it is swimming in a natural source of water. Water parks and pools are fun, but sometimes it is nice to be a part of nature. Here is a list of what I consider to be the ten BEST places to cool off in Texas, so if you've been trying to think of places to visit in Texas, here's the list!
This park looks amazing! Swimming in the desert would definitely be a cool experience. The park offers swimming and diving opportunities.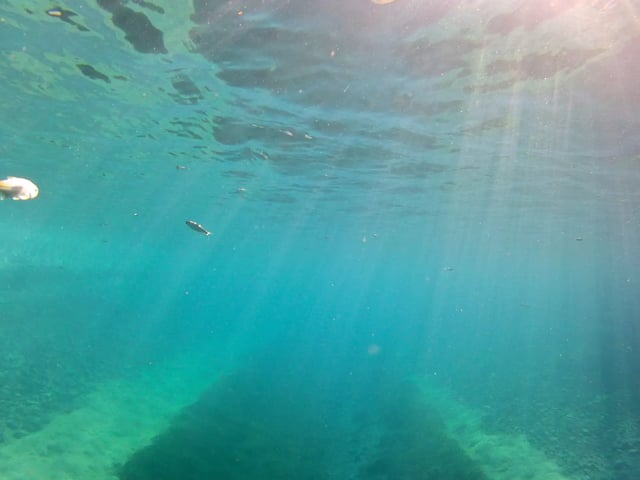 2. Jacob's Well
This is a 120 ft. deep natural spring within the Cypress Creek in Wimberly, Texas. With just a 13 ft. wide opening this is an adrenaline rush jump! Diving is only allowed with groups at designated times, as it is a dangerous excursion into the deep caves of this well.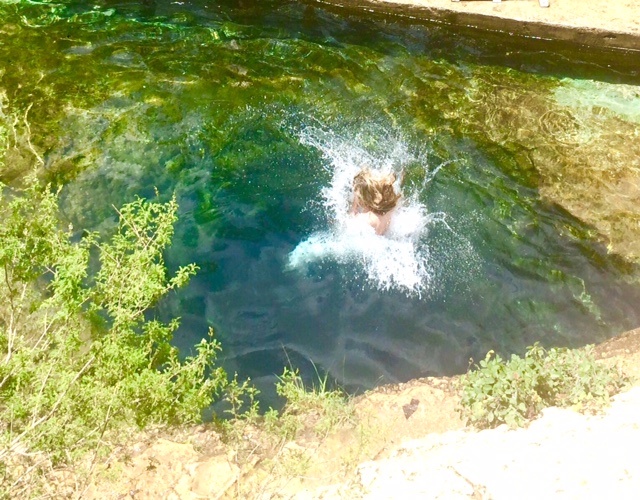 This natural pool is located about 20 minutes outside of Austin. With natural waterfalls and clear, sparkling water this place is definitely on my list! Keep in mind that this pool is 100% natural, so some days they do not allow people in the water due to bacteria levels.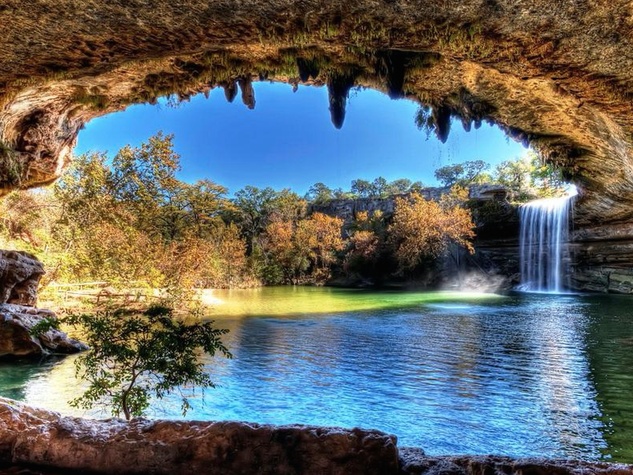 It is considered the "most unspoiled river in Texas". While much of this beautiful water source is protected by The Nature Conservancy or on private property, there are some areas that are canoe and kayak friendly. Access to these areas are reachable only by foot or bike. If you're looking for a rugged, remote adventure the Devil's River is a great option.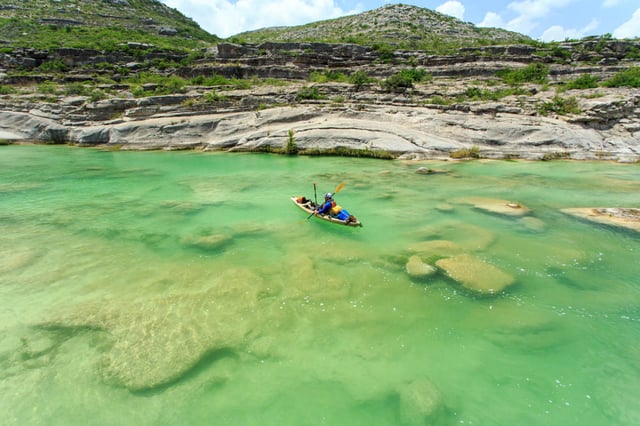 5. Frio River
The Frio River lives up to it's name, it is definitely cold, but feels great on a Texas summer day. With all the rain the river is high so there's no chance of scraping your tube. The water is clear and the scenery is beautiful. There are plenty of great places to camp along the river, so make a weekend of it!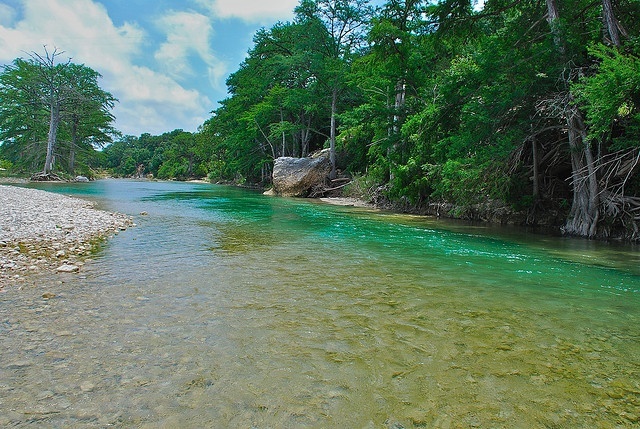 Home to the Barton Springs Salamander, this Austin, Texas natural pool is fed by underwater springs. With a year round temperature of 68-70 degrees the pool is refreshing without being bone chilling! Clear water reaches 18' feet deep in some areas of the acre wide pool.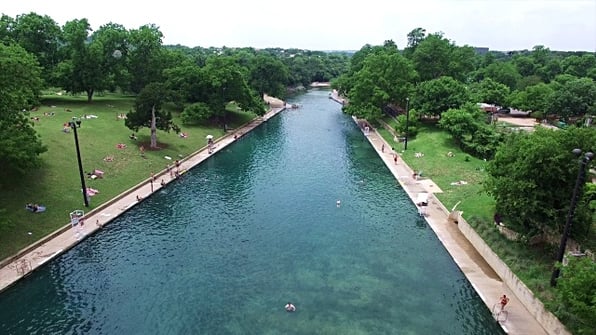 Known for it's beautiful hiking trails, these waterfalls are just one of the perks of this park. This place is great for swimming, fishing and hiking.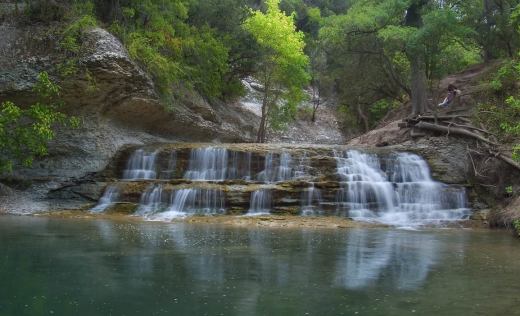 8. Pedernales Falls State Park
The falls are fed from the Pedernales River, fed by Lake Travis. With camping, hiking, fishing and tubing there is plenty to do in this park. The river runs over limestone like many of the rivers in Texas, which helps keep it filtered and clear.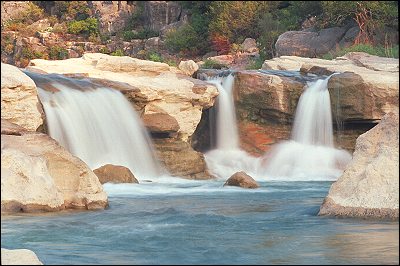 This spring break hot spot is one of Texas' most visited areas. If you're not looking for college fun I would avoid the months of March and April, but the rest of the year is a laid back beach town with tons to do! The water around this Texas Gulf island is much clearer than other Texas beaches, which makes it a great vacation destination.

This river is known for being a great tubing river. A couple of places to take off from are New Braunfels and Spring Branch. The scenery along this lazy river is beautiful, especially considering how many people tube down this river every year!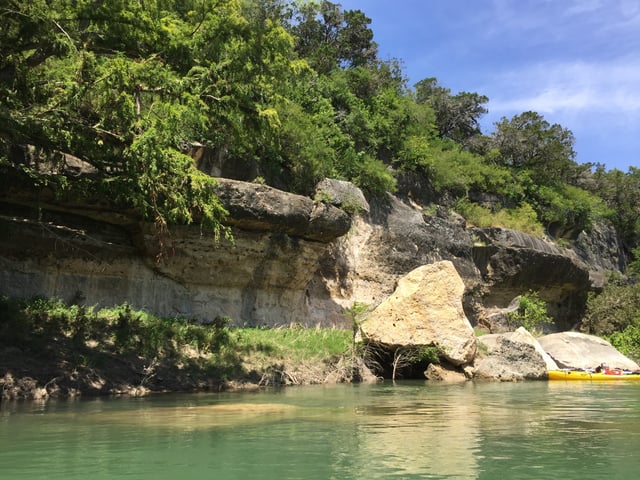 Okay, so technically this one isn't 100% natural, but hear me out. They claim to have the longest natural lazy river and it looks pretty spectacular. For this one I had to use a video, the picture didn't do the experience justice!
If you're anything like me you have a bucket list, so here are a few to add! Subscribe to our blog to stay up to date with fun information like this! We try to do the research for you so you can just enjoy the fun! I can't wait to say that I have visited all 10!
---