Halloween is one of the most fun and festive times of the year. It's a holiday that's loved and enjoyed by children and adults alike. It's also one of the best holidays for decorating! Scary or fun, haunting or hilarious - whichever you decide, remember to have fun and get a little (or a lot) creative with your decor.
With Halloween creeping up upon us, don't worry if you haven't put up any decorations yet. There's still plenty of time to deck out your home with some festive and frightful decor before the big night. To help get you into the Halloween spirit, we've compiled some spooktacular ideas to get your home Halloween-ready in no time.
Pumpkins
Pumpkins are the number one sign that it's Halloween season and will tell kids that your home is trick-or-treat ready. You can either purchase your pumpkin from a grocery store or from a pumpkin patch. Carving pumpkins is a great way to bond with your family on a fall weekend. However if you want to skip the messy carving this year, there are plenty of no carve pumpkin ideas that the kids would definitely have fun with!
Lighting
Great lighting can help take your Halloween decorations to the next level. Orange lights will add a festive touch to your Halloween display and are very inexpensive. We took a trip to the Dollar Store and found 5 feet of orange string lights for $1. These lights also plug into each other, so you can connect multiple strands to run as far as you need. Glow sticks are another option for decorative Halloween lighting. You can buy a bag of glow sticks for about a buck and they come in a variety of colors. Use them to illuminate your carved jack-o-lanterns, walkway or trees.

Door Decorations
Even though your front door will remain open throughout Halloween night, decorating your door is a fun way to welcome visitors. Magically mummify your front door using white paper streamers, along with black and white construction paper eyes. You could also create a spooky spider web on your door. Use a pack of stretch spider web or white yarn for the web. Get yourself a bag of plastic spider rings, cut off the ring portions and stick the spiders into the web. Another way to delight trick-or-treaters is to adorn your door with a wreath. Door wreaths are incredibly popular, versatile and can be customized in countless ways. A festive Halloween wreath can be purchased already-made or crafted on your own very easily. Have a look at some of the best Halloween wreath ideas that we found!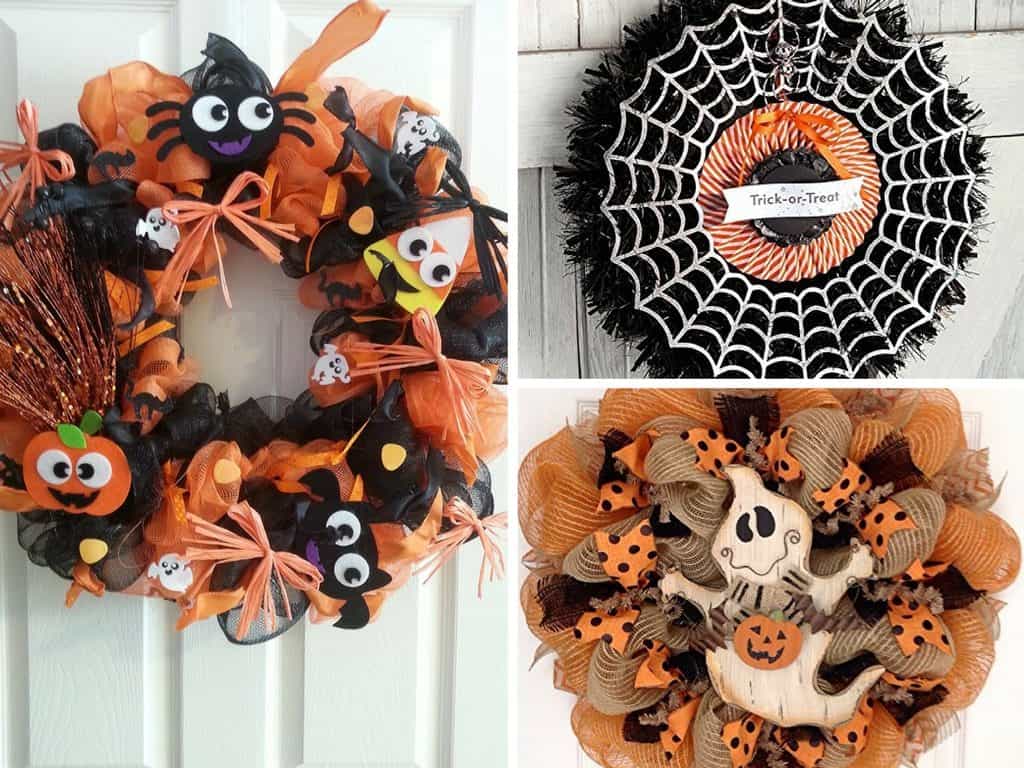 We hope that you found these ideas helpful and that they got your creative juices flowing. Halloween festivities don't have to be tiring OR expensive. For more great ideas for Halloween home decorations and more, follow our Pinterest board! Be sure to subscribe to our blog for valuable news and helpful tips.