---
Is it a modular home or a manufactured home?
A lot of people assume that the difference between modular homes and manufactured homes is the aesthetics, how the home looks.
Can you guess which kitchen is a modular or manufactured?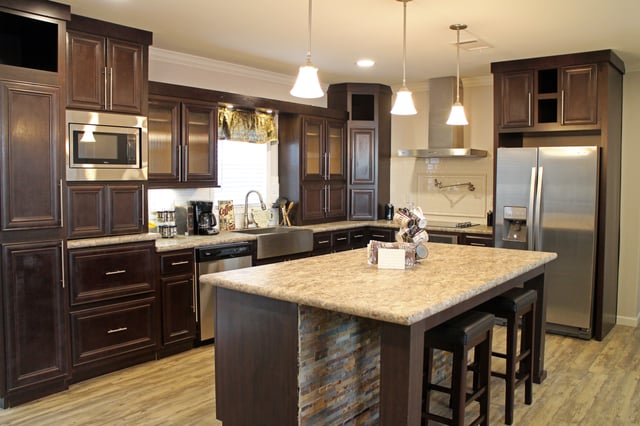 or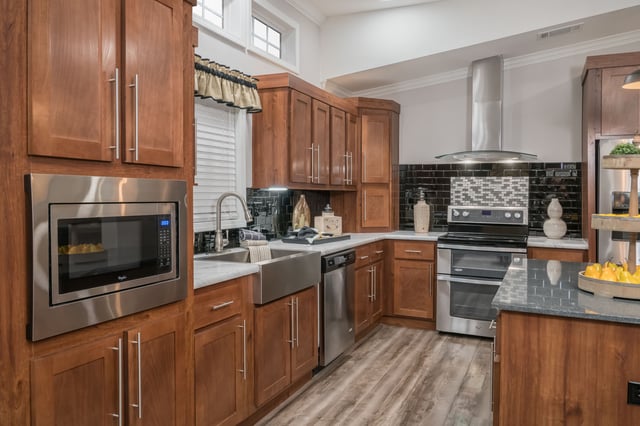 Answer... They're both manufactured homes.
Surprised? I was too.
These are the biggest differences between a modular home and a manufactured home, and none of them have to do with the looks:
Regulations- Manufactured homes are built to HUD code, modular home construction is held to the same codes as site built homes.
*What that means to you: a modular home can be placed in any neighborhood that does not prohibit them. If the neighborhood requires 30-40% masonry the modular can be built with hardy siding to meet this standard, but if the neighborhood requires 80% built on site it does not qualify.
Cost- going modular will usually tack on an extra 10-25,000 dollars to your total price.
*What this means to you: if are dead set on going modular, be prepared to pay more.
Mobility- a manufactured home can be transferred, whereas a modular home is placed permanently.
*What this means to you: if having the freedom of moving your home is important to you, a modular home might not be the best option.
Financing- chattel financing is not available for modular homes. If a bank is loaning you more than $150,000 they will probably require the home to be modular.
*What this means to you: knowing your bank's requirements will help you gauge your budget and what you can purchase.
The most important thing is to be aware of your family's needs, and to be sure that your dealership is taking care of them. You can build a manufactured home that looks identical to a modular home. If you are dead set on a modular, or if your neighborhood requires it, you will have to spend more. Knowing exactly where you want your home and what your financial options are will really help you get the best deal on your new home.
Be sure to subscribe to our blog and get more helpful information!
---