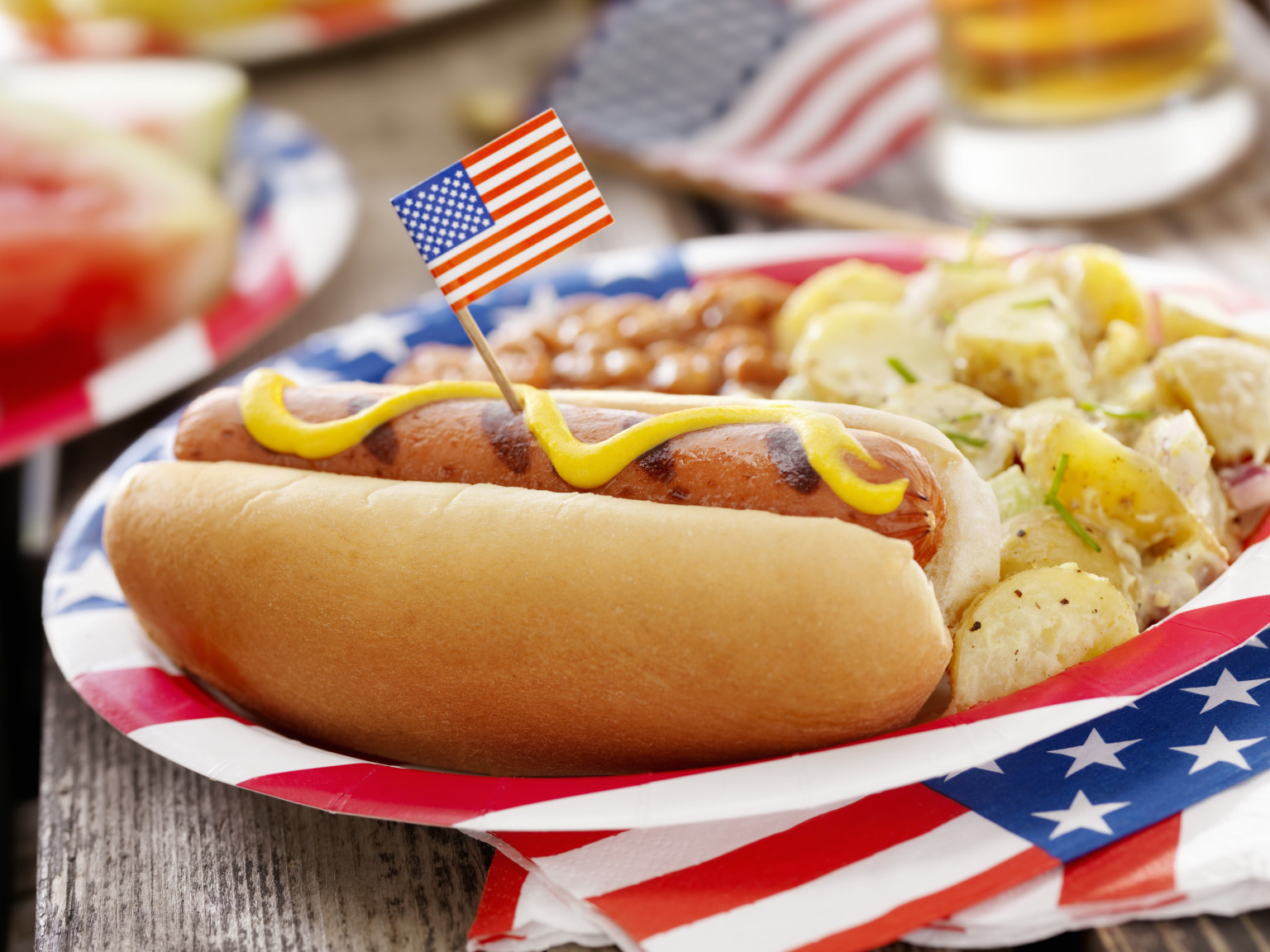 Man, does it get hot out there after spending a few hours playing some football, tending to a grill loaded with tasty burgers and dogs or just keeping up with the kiddos. You could take deep, gasping slurps from to hose, but we have a better idea!
Take your Independence Day gathering to the next level with some of these quick and tasty summer treats. We gathered these 5 delicious last minute party eats that were made especially for the Fourth of July holiday.
Red, White and Blue Berry Pops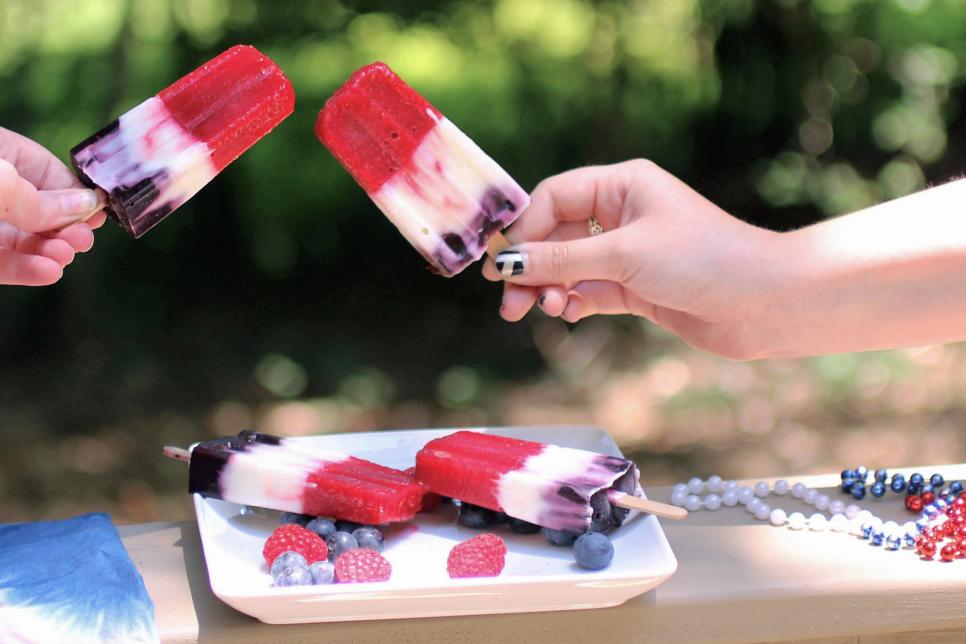 These colorful ice pops layered with raspberry, blueberry and yogurt will serve as the perfect party favors for any patriotic gathering. Made with yummy berries and creamy yogurt, these cool picnic pops are reminiscent of the red, white and blue "bomb pops" we all used to get on hot summer days when we were kids. Oh the memories! These pops are a perfect end to a 4th of July picnic or for pre-fireworks snacking.
Ingredients
2 cups raspberries
1 cup yogurt
2 cups blueberries
7 tablespoons sugar
4 tablespoons lime juice
2 teaspoons vanilla extract
1: Puree 2 cups raspberries, 2 tablespoons sugar and 2 tablespoons lime juice in a blender until smooth.

2: Pour raspberry puree into popsicle molds to fill one third.

3: Insert popsicle sticks, cover and freeze 1/3 full popsicles for at least 90 minutes until solid.

4: Stir vanilla extract and 3 tablespoons sugar into yogurt and add to popsicle molds, filling to 2/3 full.

5: Cover and return to freezer for at least 90 minutes until yogurt is solid.

6: Puree 2 cups blueberries with 2 tablespoons sugar and 2 tablespoons lime juice in blender until smooth.

7: Top off popsicle molds with blueberry puree, cover and return to freezer until solid before serving.
---
Homemade Sparkling Sangria

This sparkling sangria will make the perfect signature cocktail for any outdoor party! Packed with bright summery flavors, this sangria will have your guests' taste buds singing.
Ingredients
1 (750 mL) bottle white wine
1 (750 mL) bottle of prosecco, champagne or sparkling cider
1 cup raspberries
1 whole orange, sliced
1 bunch of green grapes
mint sprigs, for garnish

1: In a large pitcher, stir together white wine and fruit.
2: Chill in the refrigerator for at least 1 hour.
3: Pour mixture over ice.
4: Top with bubbly, then garnish with mint or more fruit.
---
Best Potato Salad Ever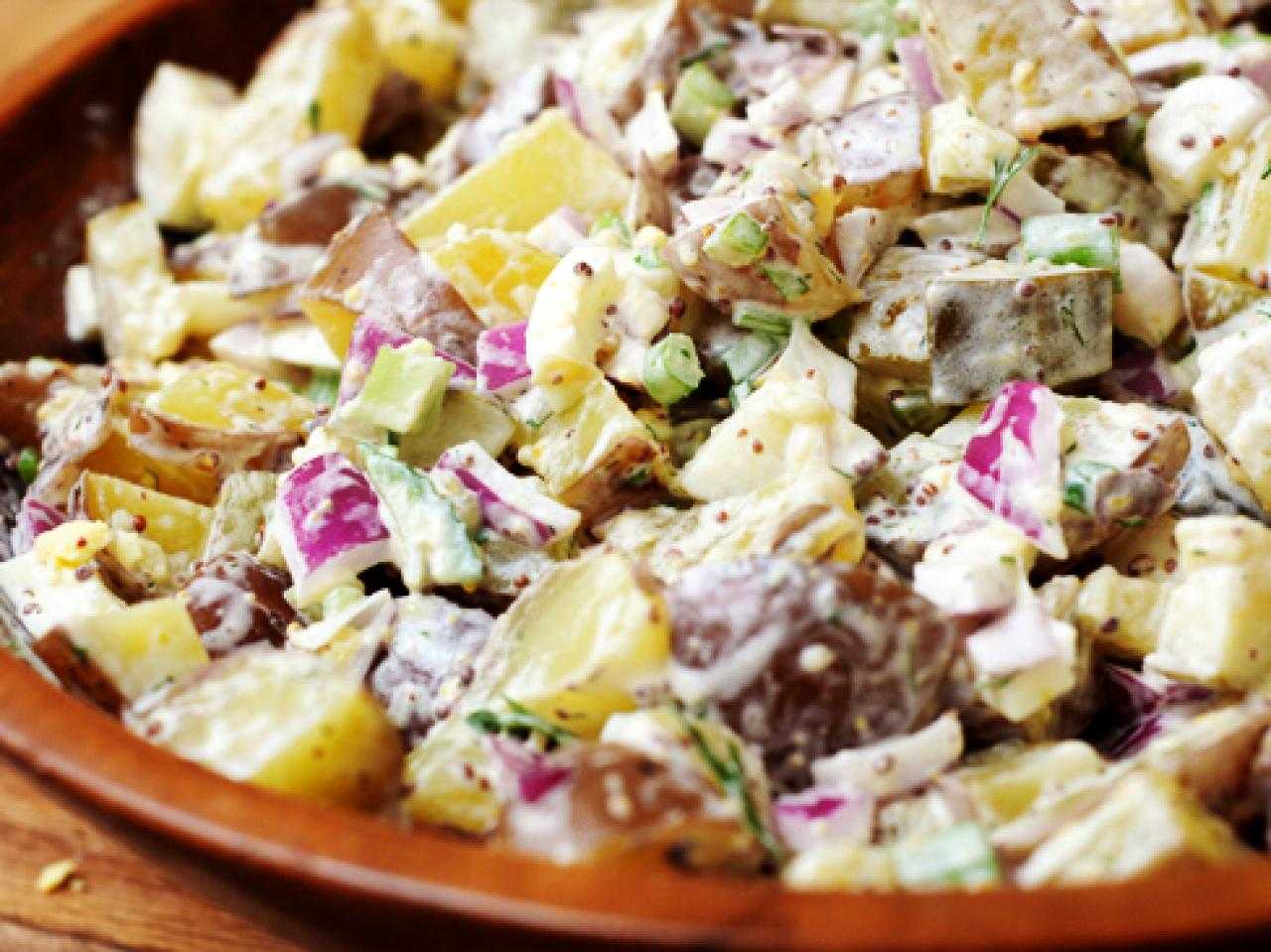 No outdoor party is complete without a bowl of potato salad, so add a spoonful of this delightful dish on the side of your burgers or hot dogs to complete your perfect Fourth of July menu. This phenomenal recipe is an exceptional blend of all the right ingredients. Care for a picnic, anyone?
Ingredients
3 lbs. medium red-skinned potatoes, unpeeled, scrubbed
8 dill pickle spears
3 celery stalks, chopped (about 1 c.)
1/2 medium red onion, chopped (about 3/4 c.p)
3 hard-boiled eggs, peeled and chopped
2/3 c. mayonnaise
2 tbs. whole-grain mustard
2-1/2 tbs. apple cider vinegar
2 tbs. fresh dill, minced
Salt and pepper to taste
1: Cook potatoes in large pot of boiling salted water until tender, about 30 minutes. (You can check for doneness by pricking the potatoes with a fork. If the fork goes in fairly easily, then they're done.) Drain and cool slightly.
2: While they're still warm, cut potatoes into chunks and transfer to a large bowl with the onion, pickle and celery. In a separate bowl, mix together the mayo, mustard, vinegar and dill, then pour the dressing over the potatoes. Season potato salad to taste with salt and pepper.
Note: You can prepare the vegetables and dressing separately a day before and then combine an hour before serving.
---
Grilled Mexican Corn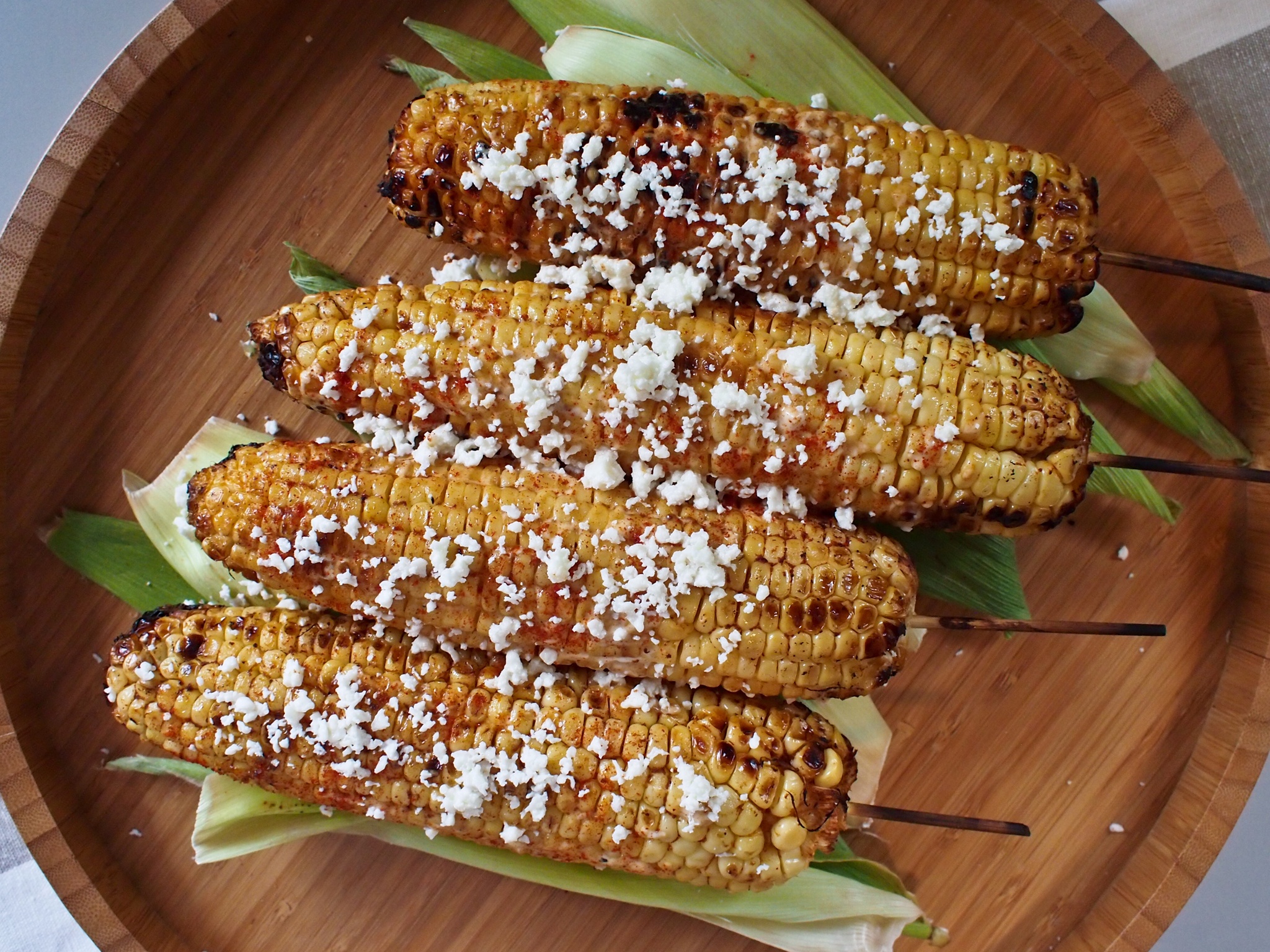 Spices, lime juice and cotija cheese bring extra Mexican-inspired flavor to this quick and easy classic that will fit right in at any outdoor barbecue.
Ingredients
6 ears of corn
2-3 tablespoons ancho chili powder
1 stick of butter
6 limes
Cotija cheese
salt and pepper

1: Remove husk and silk from corn and skewer with a bamboo stick. Generously coat with butter, ancho chili powder, sprinkle of salt and lime juice (Images 1 and 2).
2: Cover the cobs in tin foil and place on the grill for 25 minutes, occasionally turning on each side
3: Serve with an extra squeeze of lime, ancho chili powder and Cotija cheese
---
Nacho-Stuffed Potato Skins

Nothing says summer barbecue like stuffed potato skins. Top these skins with bacon, beans and guacamole to keep your guests full and happy.
Ingredients
6 russet potatoes, scrubbed and pricked with a fork
3 tablespoons olive oil, plus extra for drizzling
6 strips applewood-smoked bacon
1 teaspoon garlic powder
1 teaspoon red pepper flakes
1 cup refried beans
1 1/2 cups shredded cheddar cheese
1 cup chipotle guacamole
1 cup salsa
chopped scallions and sour cream (optional)

1: Preheat oven to 400 degrees F. Drizzle the whole potatoes with olive oil and place on a baking sheet. Bake for about 60 minutes or until the potatoes are tender.
2: While the potatoes are baking, cook 6 bacon strips until crispy and then set aside to cool. Once cooled, roughly chop the bacon.
3: Remove potatoes from oven and let them cool until they are cool enough to handle. Cut the potatoes in half, lengthwise, and scoop out most of the flesh, leaving about 1/4-inch of the potato remaining.
4: Increase the oven temperature to 450 degrees F. Place the cut potatoes back onto the baking sheet, flesh-side up. Lightly drizzle the tops with a few more teaspoons of olive oil and a sprinkle of garlic powder and red pepper flakes. Place them back into the oven for about 10 minutes. Flip them onto their other side and bake for another 10 minutes before removing them from the oven.
5: Arrange the potatoes on the baking sheet, cut side up. Spoon equal amounts of refried beans into each potato, followed by equal parts bacon and shredded cheese. Place the potato skins back into the oven for 3-4 minutes or until the cheese melts.
6: Take the potatoes out of the oven and top them with salsa, guacamole, sour cream, scallions, chives and any other toppings you like. Serve immediately.
---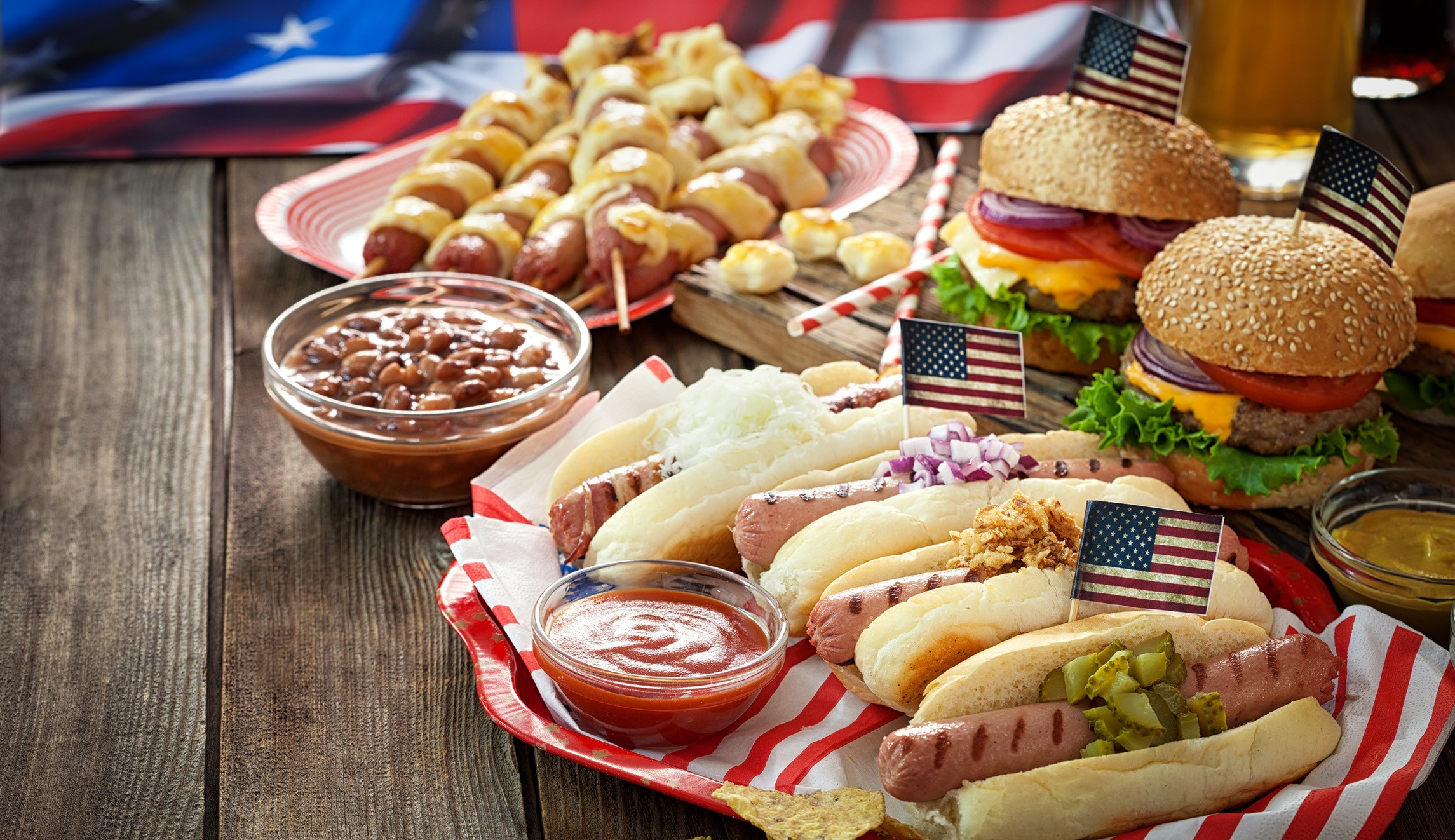 So, if you're in a hurry at the last minute and need something fast. look no further and try out some of these recipes and enjoy the 4th of July the right way! Enjoy!
Need some more ideas? Check out more ideas with our Proud to be an American Pinterest board!