---
Park model homes are actually categorized the same way as RV's, as we talked about in the last blog. They have really gained popularity in the last few years as the tiny home trend has picked up, however, park models are very versatile and are a great solution to many housing needs, besides just being a small space.
---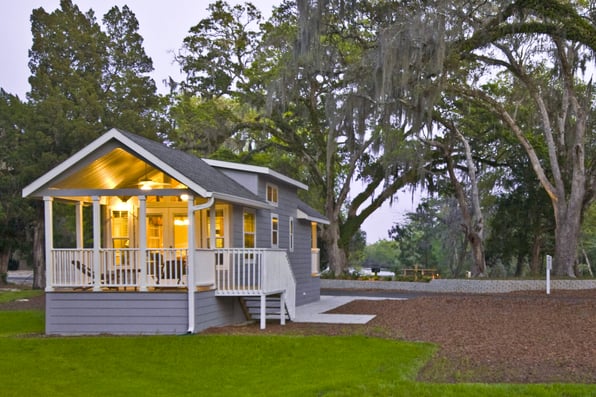 Top Uses for a Park Model:
1. You want a guesthouse or are having a parent or adult child come live with you. A park model gives the independent feel of an apartment or guesthouse, but at a fraction of the cost. With all the amenities these houses are fully functional, but will not take up a lot of space on your property, do not require meeting building codes, and are not taxable after the initial sales tax.
2. You would like to live in a community. Park models are great because they can be placed in resort style communities with amenities like parks, exercise facilities and swimming pools. The land in these areas can be rented or purchased. This is often a great option for retirement.
3. You want a small space to call home. Park models are 399 square feet or less, not including a loft or porch, which are both great options. They fit a bedroom, living area, kitchen and bathroom into less than 400 square feet, so all the essentials are there!
4. You are looking to put a vacation home somewhere. The park models make great second homes as well. Whether you are wanting a beach or lake house, a cabin in the mountains or a great camping spot, the park models can be molded to fit the look you are going for.
5. An alternative to a college dormitory. Many parents and students are investing the money they would spend on room and board into a park model to live in during college.
If any of these sound like you then a park model might be a good fit! Because there are many different shapes, colors and sizes, checking out your different options is important to ensure that you get exactly what you want.
---